"What about display boards?"
<!- PAGE START -->
<!- GOOGLE BANNER AD -->
<!- GOOGLE BANNER AD -->
<!- PAGE TOP IMAGE -->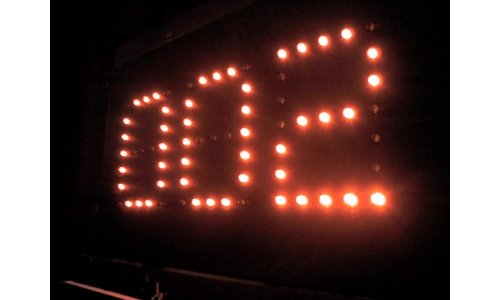 <!- PAGE TOP IMAGE -->
<!- BELOW IMAGE HEADLINE -->
"You know, like large LED display signs!"
<!- BELOW IMAGE HEADLINE -->
<!- BODY TEXT PREFACE -->
Display boards are where it all comes alive!
<!- BODY TEXT PREFACE --> Now, display boards as in large
LED
sign displays, is one of the areas that I have not covered in any detail yet, large or otherwise (but I will).
So don't worry, if you're into nice big chocolaty display stands they're not going to escape my focus of attention for long.
There are two mains types of LED Sign that are in use for large display boards today. This one below is what's called a seven segment display. The sections that light up for the display of data are pre defined segments. As you can see from the darkened segment not lit up, this type of display is best suited to numerical data.
There are in fact eight segments if you include the decimal point! But they're called seven segment displays, they can display letters in a fashion but are best used for number only displays.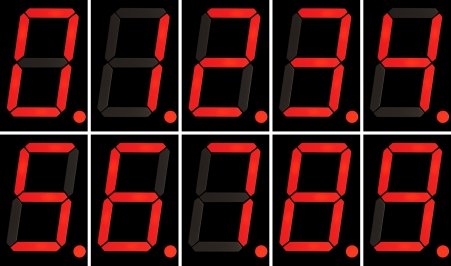 As you can see from the dark and light dots of the display boards below, this type of display below can easily display numerical data and alphanumerical data.
This type on the left here is called a dot matrix type display. The sections that light up are pre-defined five by seven dot matrix pattern.
By addressing each dot individually, even basic pictures can be displayed with a dot matrix display.
There is lots of often overlooked scope for using displays, display stands, LED sign for general information display, production figures and/or morale boosting.
Display boards, like this sort of big LED sign for production figures, are so often incorrectly looked upon just as a frilly (and costly) optional additions to machine information systems installations.
"After all, it's only going display all the same information data you have on the host displaying computer, so what's the point!"
As has been said to me on one or two occasions some time ago!
Which I have to say, I disagree with that outlook completely. I have built systems where a large production LED sign hanging from the ceiling or on the overlooking machine shop wall was the first thing the clients concerned were looking for.
C'mon guys, we all love lights and buttons to play with on display boards don't we.
I have, to date, built two machine information systems with a very large LED sign attached to them and when I say large I mean eight feet wide and six feet high. Also they had to be viewable in broad daylight, that was a task an' a half I can tell you!
I have also built numerous other varying sizes of electronic display system but these particular two were an integral part of a machine information system.
In fact one of the systems had the LED sign as the only viewing point for all the machine information data, I thought they were mad at the time. The customer is always right, as it was proved to me. Both viewed a LED sign as more important than to have a screen on the manager's desk in an office.
This was the starting point for both their machine shop projects and a very necessary part of a machine information system for them.
They both had the same two reasons for their way of thinking, the first was to impress potential customers with the sites capacity for production. A LED sign with continually updating production figures was wanted as a sales point.
The second was to get some healthy competition going between the shift work teams with a weekly prize for the best shift, I thought that made sense. Now this was not just on the highest production but also on waste and machine set-up times, all of these figures were on the display for each shift.
I though this was a very good way of encouraging higher production, totally at the other end of the scale from the browbeating method that a lot of places seem to use. Also very successful as well, I have been told on many occasions.
As far as machine shop projects go there is a lot more scope than first meets the eye with a machine information system, all you have to do is nail it down. A happy workforce is an efficient one as they say, I do agree don't you.
What do you think?
Leave Display boards to look at CNC Machines.
Return from Display boards to Home.
<!- Clickbank Ad-Link Water4Fuel --> ARE YOU TIRED OF RISING FUEL PRICES!!!
<!- Clickbank Ad-Link Water4Fuel -->